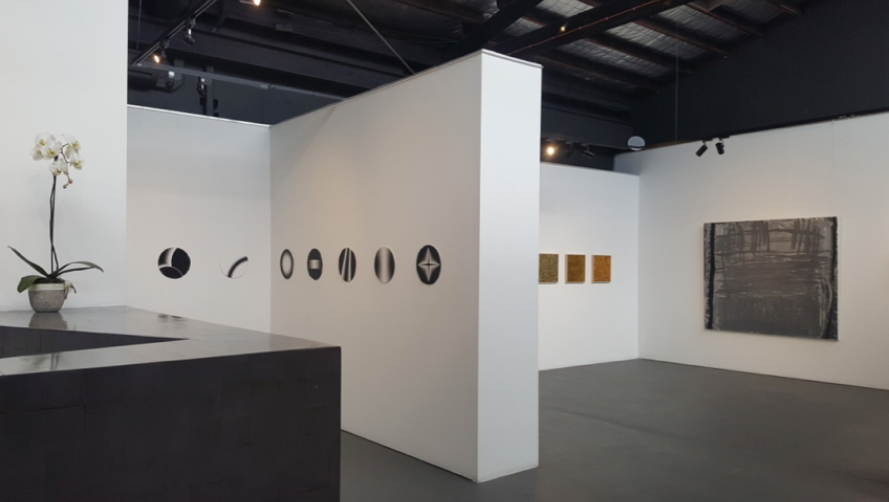 Left to right: Curved Space Series (Cebokli), Golden Squares (Tabacco), Grey on Grey (Brooks)
2017 has morphed into a very busy year starting with a solo exhibition at Factory 49 in Sydney featuring the Curved Space series of works.
Emma Langridge and TJ Bateson have curated these same works into the exhibition Shades of Grey III. Featuring 23 artists working within the parameters of the abstract and non-objective, the theme is the creation of "a place of calm and spaciousness, [that] allows the viewer to ruminate and reflect rather than react."
The exhibition is currently showing at Tacit Galleries, 123a Gipps St, Collinwood, Fri-Sun 11-5pm until 24 September.
The other artists: Kim Anderson, TJ Bateson, Louise Blyton, Elizabeth Bodey, Terri Brooks, Raymond Carter, Kubata Fumikazu, Louise Gresswell, PJ Hickman, Oliver Hutchison, Shelly Jardine, Wendy Kelly, Emma Langridge, Shannon McGrath, Marcus Piper, Peter Summers, Wilma Tabacco, Graeme Thomson, Tom Vincent, Andrew Weatherill, Ian Wells, Kathy Westford.