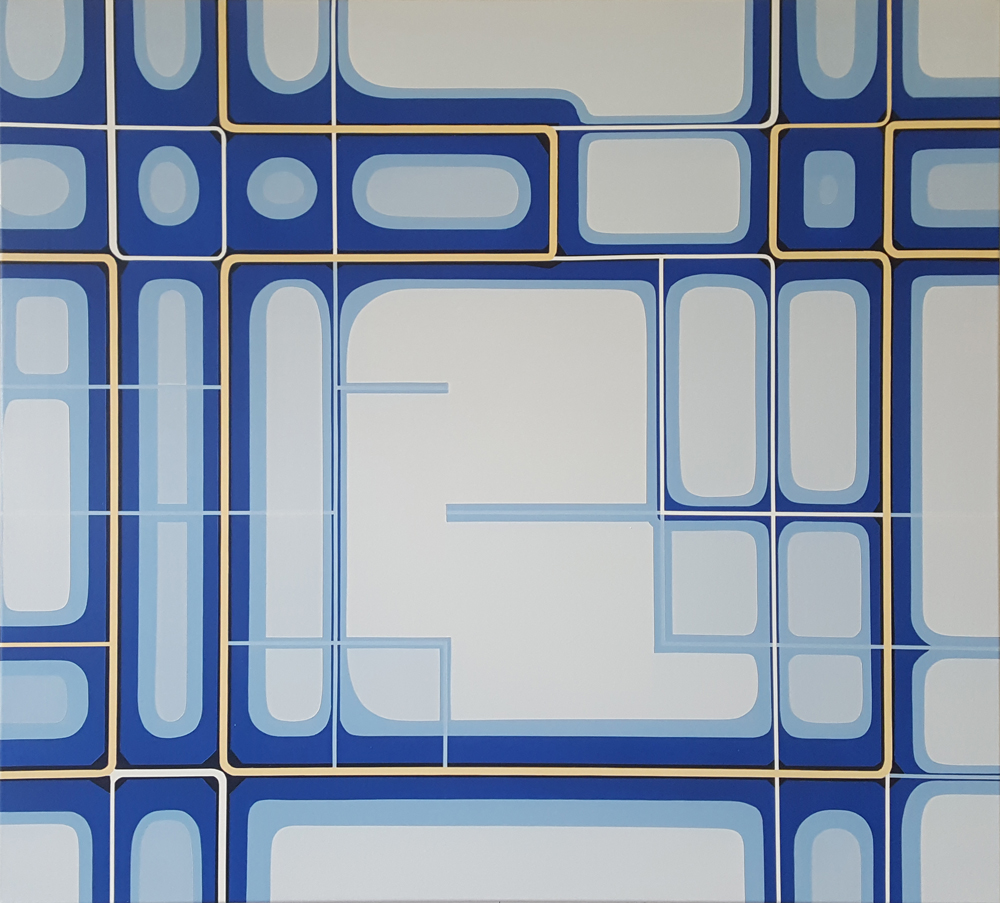 Port Vell | 2020
Acrylic on linen | 76 x 84 cm
Review: Magda Cebokli's abstracts are tough, cerebral and elegant
Magda Cebokli: The essence of a space. Nancy Sever Gallery 131 City Walk, Civic. Closes April 9.
The tough, cerebral abstract paintings by Magda Cebokli have long graced the Australian art scene but this, as far as I am aware, is the artist's first solo exhibition in Canberra.
Cebokli was born in Slovenia in 1947 and came to Australia as a child. After a career as a clinical and research psychologist, in the 1990s she requalified as an artist, studying art in Australia, Hong Kong and New York, and settled in Melbourne where she has been exhibiting since the 1990s.
Her paintings are highly calculated, deliberate and quite minimal with immaculate and beautifully resolved surfaces.
A painter like Agnes Martin could be considered a fellow traveller and Sol LeWitt a possible source of inspiration. Cebokli reduces the elements of her pictorial inquiry to a few variables and to simplified forms and these, through a series of repetitions and employing a restricted palette, she develops as a series of paintings.
They are exceptionally elegant paintings that are built up through a careful layering of colours and variable factors, such as surface patterns that may catch the light, the shape and depth of the support on which the painting is made as well as a play with hard edges that visually seem to melt into soft boundaries.
The paintings in this exhibition are largely inspired by the Alhambra palace and fortress complex in Granada, in Andalusia, Spain.
It is one of the most famous gems of Islamic architecture and a culmination of the Moorish tradition of architecture and has long intrigued scholars by its mathematical complexity and its system of geometric proportion.
Cebokli has transferred these proportions to the arrangement of shapes in her paintings.
A canvas such as "Alhambra #5", 2018/21, at first glance, is quite severe, with acrylic applied to a square canvas measuring exactly 101.5cm by 101.5cm. It is focused, intense and devoid of any visual irrelevance.
It is simple, but at the same time quite mesmerising with its gentle pulsating pattern.
In contrast, "Alhambra #11", 2023, of identical dimensions and possibly the strongest painting in the exhibition, within the austere restrictions has a bewildering complexity.
It is a very clever painting, where the proportions and the colour echoes are beautifully balanced with nothing left to chance. It has a strong meditative power that draws you into the black square and the surrounding fields of negotiated colour.
Cebokli is unusual that within her deliberate restricted field of variables, she can assert such discipline and intensity, while at the same time creating a contemplative experience.
Her art may be cerebral and, to some extent, even austere, but it possesses a certain transcendental quality. You can ease into her paintings and dissolve into them.
The second series of paintings in the exhibition also stems from a Spanish source, in this instance, Gaud's unforgettable Sagrada Familia in Barcelona. Cebokli has translated her journey of walking through the architect's organic forms negotiating light and space that have been somehow magically transfixed through sacred geometry into a number of minimal paintings. None of the series of paintings is specifically tied down through location, they are more suggestive and abstracted inspirations.
It is questions like how light flirts with the edge or how proportions dissolve one into another that hold sway, rather than a translation of any specific location or the resolution of a specific problem. Cebokli's art is a triumph of visual intelligence, and it is a triumph of a high order.